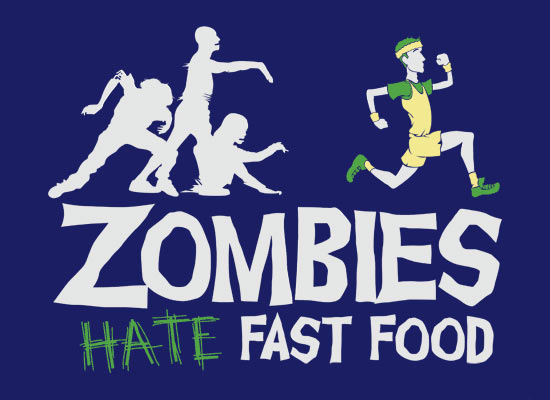 Ok, maybe there's not going to be a zombie apocalypse in the very near future, but who am I to just take my chances? In the mean time, I'll hide my true motives for regular cardio sessions (zombies!) with much more widely accepted reasoning: health.
Cardio has about a bajillion positive effects on your overall health. It improves your ticker (of which most people only ever get one), strengthens your muscles and bone density, ups your energy, improves your sleep, beats the bulge, and is the best freakin' free therapy around!
Experts suggest 150 minutes of cardio per week (30 minutes a day, five days) to get the most from its amazing benefits. Know what's even better? You don't have to set foot into the gym or succumb to a schedule to complete it! Studies show that 30 minutes broken up into small spurts throughout the day provide just as much benefit. It could be as easy as 10 minutes when you get out of bed in the morning, a 10 minute walk after lunch, and jumping jacks in between 2 commercial breaks during your favorite prime-time tv show in the evening! Other suggestions:
Go for a jog or bike ride through the neighborhood.
Pump up your favorite tunes and have a dance party in your living room.
Chores! Raking leaves and vacuuming work just as well.
Make sweet, sweet love!
Play like a kid outside: rollerskating, softball, H-O-R-S-E
Swimming
Hike along trails
Lunges or squats during phonecalls or
Jumping jacks or situps during tv commercials
The possibilities are endless when it comes to fitting in that heart-pumping goodness into your day. We weren't meant to always be sedentary. Don't just stand there, bust a move! And in the event that I'm right and we
do
encounter a zombie attack, you'll be ahead of the game!